Navigation is missing! Show navigation panel...
Logging On and Logging Off at the MCP
After a successful installation, start the MCP with the program icon under Programs in the Hypersoft directory or with the start icon on your desktop. The login to the MCP appears. At the beginning of your work with the MCP, the system should be connected to the Internet in order to synchronize the users once. When you log on, the system checks whether there is a care unit in the overall system that has an Internet interface set in Care Unit Management. If no station has Internet, the system checks whether the portal can be reached directly from the current station.
Your users and passwords are managed in the Hypersoft portal and the first access is set up by Hypersoft.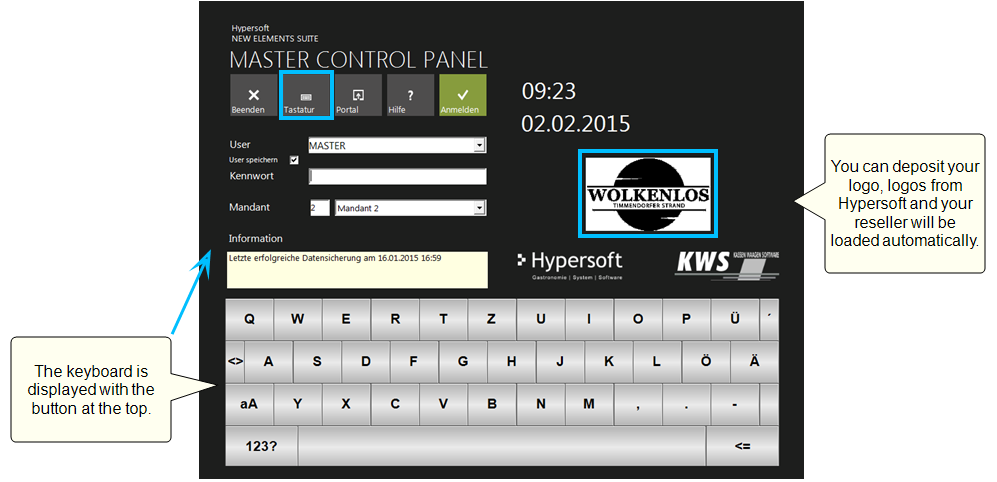 Select your login name under User. If necessary, select the client with which you want to work in this session. Enter your password in the Password field and confirm this with the Loginbutton .
All known users can be selected under User, if they were logged in once with the option Save user. For other unknown names that come from the portal, you must enter the login name.
The Portal button opens the Hypersoft portal MyHypersoft.de in your browser.
Use your own login names and passwords to work with Hypersoft Suite so that certain activities can be secured with a reference to the user. Hypersoft employees and your reseller partner log in with their own password, for example to log changes to the item master under the respective user name. This is also advantageous for audits and controls.
If you have multiple operations with Hypersoft that are assigned to a headquarters, the logon recognizes this and lets you log on to their new operations with your known logon name and password.
If the portal (myHypersoft.de) is not accessible, the system automatically switches to a Hypersoft backup portal available for registration. If the backup portal is also not accessible, you can log in "Offline" 3 times (or try 3 times if you enter the wrong data). Offline login is now possible at any time with the data currently stored on the local system. This means that an "unknown" user could also log in offline. At the moment it is still the case that the user must have been logged in at least once for offline access to work. If the system is completely without Internet, a corresponding dialogue appears:
If you select the left button, each time you log in, the system checks again whether it can reach the Internet. If the right button is selected, the system is set to work "OFFLINE". Even then, the MCP checks with each registration whether any station can reach the Internet again. If yes, the system works with the portal again.
---
Further documentation:
Registration by code from the portal
Edit Hypersoft and Vendor Support
Back to the chapter home page: MCP Hypersoft Desktop